Guns 'n Roses – Appetite For Destruction (1987)
Olá pessoal, tudo bem com vocês? Eu sou o Flávio Oliveira e hoje vamos falar de mais um disco marcante. Em decorrência do sucesso da turnê dessa banda pelo Brasil, eu resolvi falar sobre um disco em particular que acredito que todos irão concordar comigo que é o melhor da banda. Sim amiguinhos, hoje minha resenha é sobre o primeiro disco de estúdio do Guns 'n Roses, Appetite for Destruction.
O álbum foi lançado no dia 21 de Julho de 1987 e trouxe grandes expectativas para as bandas que surgiram que surgiram nos EUA. Vale citar que naquele momento o cenário americano passava por uma grande defasagem musical, com sons que muita gente não curtia. Poucos sabem mas o Guns veio da mistura de duas bandas: Hollywood Roses e LA Guns. No final das contas a mistura dos integrantes das duas bandas formou o Guns 'n Roses.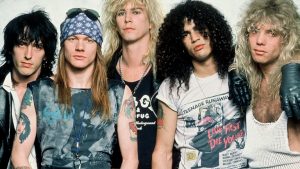 Sem mais delongas, vamos direto ao disco que tem como primeira faixa 'Welcome to the Jungle', com os aqueles efeitos clássicos da guitarra de Slash. O clipe dessa música é muito interessante pois cada integrante tem um papel específico no mesmo. Em sua autobiografia Slash menciona que gravou o clipe totalmente chapado (que novidade hahaha), o videoclipe de Welcome to the Jungle é bem agressivo e faz jus ao conceito do disco.
Appetite for Destruction tem uma essência que poucas bandas conseguem expor em seu primeiro trabalho, geralmente a maioria das bandas não conseguem ter um álbum de estreia com o teor de virtuosidade e criatividade em ebulição como o Guns teve. Pra mim o maior destaque do disco é a formação clássica do grupo que com o passar do tempo vai se enfraquecendo e dando espaço para outra forma de expressão artística que é resumidamente da parte de Axl Rose, mas isso já é assunto para outra matéria.
O disco concebeu grandes clássicos que ficaram marcados no mundo todo, faixas como 'Sweer Child O' Mine', 'It's So Easy', 'Mr. Brownstone (uma pequena gíria para heroína)', 'Paradise City' e 'Welcome to the Jungle' – já citada no parágrafo anterior. Na época do lançamento o disco não obteve sucesso, mas depois vieram as turnês pelo interior dos EUA e a banda colheu bons frutos. Essas excursões são bem relatadas na autobiografia de Slash, nela ele cita as muitas bebedeiras, o excesso no uso de drogas e as farras junto dos caras do Motley Crue – deixo essa dica de leitura pra vocês.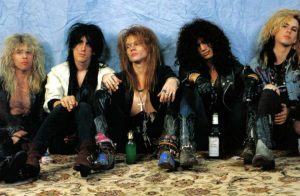 Um ponto importante a ser citado é a volta da formação atual depois de muitos anos, o último show com a a formação clássica ocorreu na Argentina em 1993 e deixou várias marcas entre os integrantes. Durante um longo tempo, Slash e Axl trocaram 'elogios' publicamente, o que plantava na cabeça dos fãs da banda que a formação original nunca mais estaria junta em um palco, entretanto 2016 chegou e o que era dado como impossível aconteceu: Axl e Slash, depois de 20 anos 'reataram', a dupla se reencontrou em Los Angeles em Abril e o Guns 'n Roses voltou a ativa com os ícones da banda juntos.
Axl não deu fim ao grupo depois de 1993, o Gun's passou por outras formações (na minha opinião, nem tão satisfatórias), Slash gravou vários álbuns solo e também montou outra banda com o baixista Duff, o Velvet Revolver. Na volta da formação original do Guns o Brasil teve o privilégio de receber vários shows da banda que marcou época no fim da década de 80 e no início da década de 90.
Bom pessoal essa foi a matéria de hoje de nosso blog, e na minha visão ouvir Appetite of Destruction é um dever de todos, podendo assim apreciar o virtuosismo das guitarras de Slash e Izzy, as batidas inconfundíveis de Steven Adler, o vocal único de Axl e o baixo com levada punk de Duff.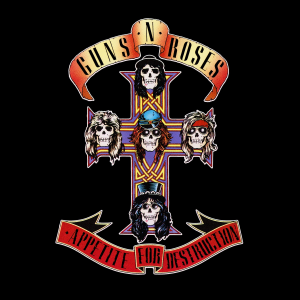 Faixas do Disco

1 – Welcome to the Jungle
2 – It's So Easy
3 – Nightrain
4 –  Out Ta Get Me
5 – Mr. Brownstone
6 – Paradise City
7 – My Michelle
8 – Think About You
9 – Sweet Child O'Mine
10 – You're Crazy
11 – Anything Goes
12 – Rocket Queen